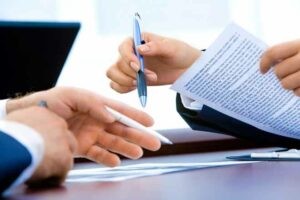 You are beginning the estate planning process. Great! When discussing your situation with your estate planning attorney, you will hear about trusts. But what type of trust is best for you? Fortune's recent article, "Understanding trusts: An important estate planning tool for everyday Americans," gives a concise run-down of all of the various types of trusts.
AB Trust. Also called a credit shelter or bypass trust, this trust is used by married couples to get the most benefit from estate tax exemptions. An AB trust is two trusts. The easiest way to remember them is that the A trust is for the person "above ground," and the B trust belongs to the person "below ground." Assets up to the annual estate tax exemption are put in the B trust to avoid estate taxes and usually pass to the couple's children ("bypassing" the spouse). The remaining assets are placed in the surviving spouse's A trust. When the surviving spouse dies, assets in both trusts pass to the designated beneficiaries.
An AB trust may be best for highly affluent married couples with large estates wanting to max out their estate tax exemptions.
Charitable Trust. This trust can benefit three parties: you, the grantor, your beneficiaries, and a charitable cause. They come in two types—charitable remainder trusts and charitable lead trusts. They still have one thing in common: the benefiting charity must be a qualifying organization per Internal Revenue Service guidelines. A charitable remainder trust is a type of irrevocable trust that provides income for you or your beneficiaries during your lifetime. You typically will move highly-appreciated assets into the trust, which the trust then sells—avoiding capital gains taxes—to create the income stream. After your death, the remaining assets in the trust are distributed to one or more charitable causes. A charitable lead trust is an irrevocable trust that's the opposite of a charitable remainder trust. It first benefits the charitable beneficiaries of your choice during your lifetime. When you die, the remaining assets are distributed to your beneficiaries. A charitable lead trust can be funded during your lifetime or when you die through instructions in your will. A charitable trust may be best for individuals with highly appreciated assets, like stocks, that can be used to help meet philanthropic goals during or after their lifetimes.
Grantor Retained Annuity Trust (GRAT). A GRAT is an irrevocable trust generally used by the wealthy to reduce tax implications for their beneficiaries. You transfer assets into the trust that are expected to appreciate over time and specify the term for which you'll receive an annuity payment based on those assets. Once the GRAT's term expires, the assets and any appreciation of those assets in the trust will pass to your beneficiaries with little to no estate tax burden. A GRAT may be best for wealthy individuals who want to help family members avoid paying estate taxes on their inheritance.
Irrevocable Life Insurance Trust (ILIT). Putting life insurance into a trust is a strategy the wealthy use to cover several fronts. You fund an irrevocable trust using one or several life insurance policies. When you die, the payouts from those policies typically avoid estate taxes but can be used to pay for things like state estate taxes and funeral expenses. The funds in the trust can help avoid the need to liquidate assets to meet these financial needs. An ILIT may be best for people who expect to pay state estate taxes and want to protect life insurance policies from creditors or divorce.
Special Needs Trust. This trust can help provide long-term care for a loved one with physical or mental disabilities who's under age 65. The big benefit of special needs trusts is that assets held in them don't affect their eligibility for Social Security and Medicaid benefits. There are three types of special needs trusts. Therefore, it is important to create one with an attorney specializing in special needs trusts. This trust may be best for those with mentally or physically disabled family members.
Figuring out what type of trust is best for you really comes down to the type of assets you have, and how you want to manage and pass down those assets when you pass. If you would like to read more about the different types of trusts, please visit our previous posts. 
Reference:  Fortune (June 9, 2023) "Understanding trusts: An important estate planning tool for everyday Americans"
Image by Aymane Ididi