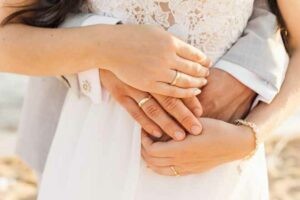 Second marriage, goes the saying, is the triumph of hope over experience. It's a happy event for everyone, but different from the first time around. You might have created an estate plan during your first marriage. Still, chances are your life is a lot more complicated this time, especially if you both have children from prior marriages and more assets than when you were first starting out as a young adult. It is important to evaluate your planning before a second marriage. This is why a recent article from The Bristol Press is aptly titled "Plan your estate before you remarry."
Here are some pointers to protect you and your new spouse-to-be:
Take an inventory of all assets and liabilities. This includes assets and debts, life insurance policies, retirement plans, credit card debt and anything you own. It's important to be open and honest about your debts and assets, so that both people know exactly what they are marrying. Once you are married, you may be liable for your partner's debts. Your credit scores may be impacted as well.
Decide how you are going to handle finances. Once you know what your partner is bringing to the marriage, you'll want to make clear, unemotional decisions about how you'll address your wealth. Are you willing to combine all of your assets? Do you want to keep your investment accounts separate?
For example, if one person is selling a home to move into the home owned by the other person, what costs, if any, will they contribute to the cost of the house? If one person has significant debt, do you want to combine finances or make joint purchases? These are not always easy issues. However, they shouldn't be ignored.
Decide what you want to happen when you die. You and your future spouse should meet with an experienced estate planning attorney to create a will, Power of Attorney, Health Care Proxy and other documents. This lets you map exactly where you want your assets to go when you die. If there are children from prior marriages, you'll want to ensure they are not disinherited when you die. This can be addressed through a number of options, including creating a trust for your children, making them beneficiaries of life insurance policies, or giving children joint ownership of property.
Even if there are no children, there may be family heirlooms or items with sentimental value you want to keep in the family, perhaps passing to a cousin, nephew, or niece. Discuss this with your future spouse and ensure that it's included in your will.
Meet with an estate planning attorney. You should take this step even if you don't have many assets. If you have children, it's even more important. You'll want to update your will and any other estate planning documents. If you have significant assets, you may decide to have a prenuptial or postnuptial agreement. The estate planning attorney will also help you determine whether you need a trust to protect your children.
If you had planning done in the past, it is important to sit down with an estate planning attorney to evaluate it in before to a second marriage. If you would like to learn more about estate planning for blended families, please visit our previous posts.
Reference: The Bristol Press (July 14, 2023) "Plan your estate before you remarry"
Image by Lubov Lisitsa