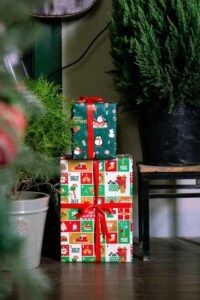 The year 2024 will bring more reasons to be generous, since the Internal Revenue Service (IRS) has increased the limits for gift and estate tax exemption amounts to their highest amounts ever. It's good news to start the year with, reports the article "IRS Increases Gift and Estate Tax Exempt Limits—Here's How Much You Can Give Without Paying" from yahoo! finance.
Those with large estates should always consider gifting during their lifetime to reduce taxes by using the annual gift and lifetime gift and estate tax exemptions. Right now, you may give an unlimited number of people up to $17,000 each in a single year without taxes. However, in 2024, this increases to $18,000 per person. For married couples starting in 2024, a gift of $36,000 can be made to any number of people, tax-free.
More good news: the IRS announced that the lifetime estate and gift tax exemption will increase to $13.61 million in 2024. A gift exceeding the annual limits won't automatically prompt a gift tax. The difference is taken from the person's lifetime exemption limit, and no taxes are owed. Your estate planning attorney will create a long-term strategy to use these exemptions to manage your estate tax liabilities.
Let's say you were feeling generous and bought a friend a car for $20,000 in 2023. You would have exceeded the annual limit of $17,000 but wouldn't owe any additional taxes. You'd use IRS Form 709 to report the gift and deduct $3,000 from your lifetime exemption of $12.92 million for this year. If you instead make the gift in 2024, you'd subtract $2,000 from your $13.61 million limit.
Gifts between American spouses are virtually unlimited. Couples have $24.84 million in estate tax exemptions, and going over this limit is only taxed upon the surviving spouse's death.
However, a gift to a non-U.S. citizen, regardless of whether or not they are a U.S. resident, falls under different rules and is subject to an annual tax exclusion amount. The annual amount one may give to a spouse who is not a U.S. citizen increases to $185,000 in 2024 from $175,000 in 2023.
Something else to keep in mind—unless Congress acts, the lifetime estate and gift tax exemption is due to return to the pre-2017 Tax Cuts and Jobs Act level of $5.49 million on December 31, 2025. Your wisest move is to speak with your estate planning attorney about a strategic plan for gift-giving and planning to minimize estate tax liability before the change occurs. To take advantage of the gift and estate tax exemption limits increase for 2024, consult with you estate planning attorney. He or she will make sure you are reaping the benefits. If you would like to learn more about the gift tax, please visit our previous posts. 
Reference: yahoo! finance (Nov. 14, 2023) "IRS Increases Gift and Estate Tax Exempt Limits—Here's How Much You Can Give Without Paying"
Image by Đất Việt Media