The Estate of The Union Episode 12 is out now!
This is the traditional time for giving. Giving to a cause and giving of ourselves.
The newest episode of The Estate of The Union focuses on the topic of charitable giving. Brad chats with Stacey Wedding, an expert on charitable giving, about how it can play a role in your planning strategy and help the people and organizations that have meaning in your life. They discuss both the How and the Why of giving – and Stacy will share tips on becoming a smarter giver too!
Laws concerning charitable giving can change, so be sure your gifting strategies are still appropriate for your estate. Charitable remainder trusts (CRTs) and Donor Advised Funds (DAFs) are options for people who are already charitably inclined to reduce estate taxes. Charitable Remainder Trust can reduce taxes for people who would be making gifts to support meaningful causes. DAFs can be created and funded by individuals or a family and receive a deduction that very same year.
In each episode of The Estate of The Union podcast, host and lawyer Brad Wiewel will give valuable insights into the confusing world of estate planning, making an often daunting subject easier to understand.
It is Estate Planning Made Simple!
To learn more about Stacey Wedding and the Stacey Wedding Group, please visit her website:

The Estate of The Union episode 12-Giving Yourself Away can be found on Spotify, Apple podcasts, or anywhere you get your podcasts. Please click on the link below to listen to the new installment of The Estate of The Union podcast. You can also view this podcast on our YouTube page. The Estate of The Union Episode 12 out now. We hope you enjoy it.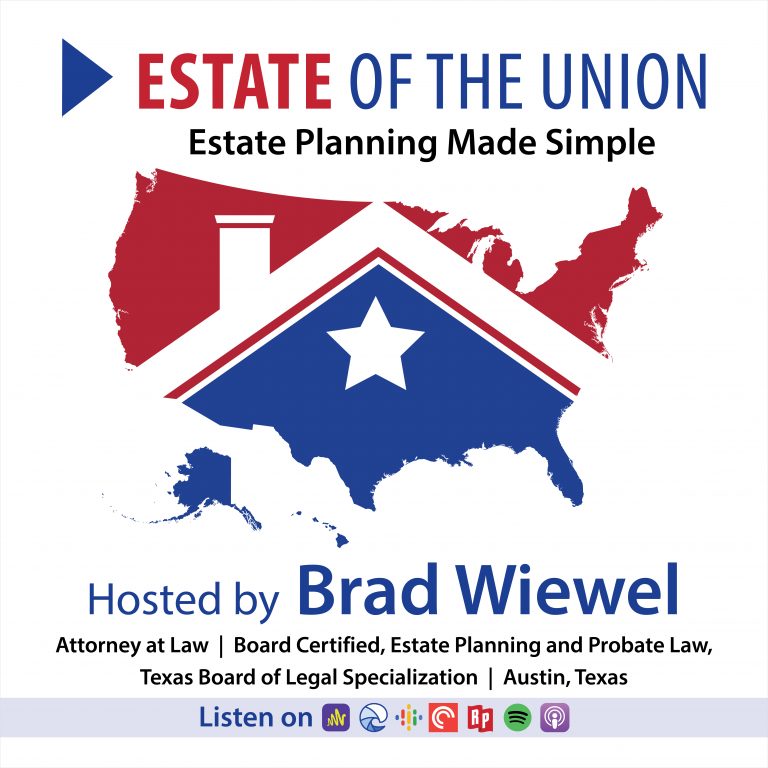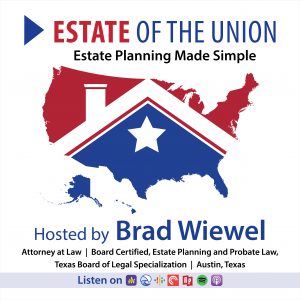 Texas Trust Law/Texas Trust Law focuses its practice exclusively in the area of wills, probate, estate planning, asset protection, and special needs planning. Brad Wiewel is Board Certified in Estate Planning and Probate Law by the Texas Board of Legal Specialization. We provide estate planning services, asset protection planning, business planning, and retirement exit strategies.